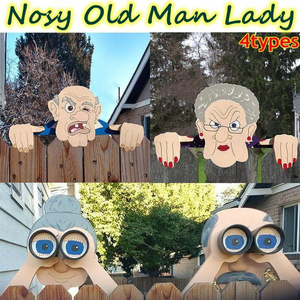 Grumpy Couple to keep track of everything in the neighbourhood!
Hidey-Ho Neighbour! What's happening? Just ask Pete - the ULTIMATE nosy neighbour. Peekin' Pete see's all with his high-powered binoculars! 
They sit right on your fence and can either peek in on your neighbour, or have it turn towards your yard and spy on you as you move around the farm, decorating your garden and backyard.
It attaches right to any standard fence. Slots fence peeker make it easy to slider over most fences!
Made of wear-resistant and durable PP board material for a long service life
These boards can be used as nice outdoor decorations for birthdays, parties and other events
An ideal family gift on Mother's Day, Father's Day, Thanksgiving Day, Christmas, Valentine's Day, Anniversary, Housewarming
Pro Tip: It is very suitable for installation in a fence or garden between you and your neighbors. However, Even if there is no fence, it can be installed on the front door or window. Or add a camera to observe the outside world at all times!
This comical and fun project is sure to get a chuckle from all who see them. Fool your neighbours by placing these two nosey people on your fence. They are sure to do a double-take! 
Customers all over are loving it!