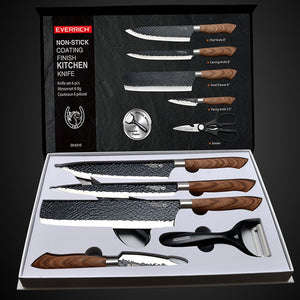 WARNING: Unidentified flying object in airspace!
Wait.. what's that coming down from the sky?

Is it a bird? No, it can't be..

A plane, then? Nah, but it could be alie.. OH MY GOD!!
IT'S actually a Forged Stainless Steel Kitchen Knife Set, straight from the Skyforge in Valhalla!!
Sharp, durable, and ready to slice, dice, and chop, this cutting-edge (heh) knife set is one that we haven't seen even in our wildest dreams..


You may be wondering why I am so excited about this knife set. Here's why the Forged Stainless Steel Kitchen Knife Set is THE knife set to top all knife sets:
All-in-one, baby! Imagine buying a single knife in 2021. Not on our watch - the Forged Stainless Steel Knife Set has everything you'll ever need for your slicing n' dicing habits in the kitchen - a Chef Knife, Cleaver, Carving Knife, a Paring Knife, and a pair of Scissors for good measure.


Sharp as hell! Thanks to the forged high-carbon steel used, no fruit, meat, or vegetable can withstand the sharpness of the Forged Stainless Steel Knife Set. In fact, RadWish customers claim that this knife set is

EVEN sharper than office paper!

 Jeez!



Perfectly balanced, as all things should be! 

You know when you're chopping at a piece of beef jerky like a maniac and your wrist feels like it's about to fall off soon?

Well, that would NEVER happen with the Forged Stainless Steel Kitchen Set, masterfully balanced by the greatest blacksmith in Valhalla known as Bal 'Ance!


Pretty! Apart from the top-of-the-line Valhalla craftsmanship, this knife set comes in a beautifully-designed, high-quality gift box that guarantees to impress!


On par in durability with the legendary Nokia 3310! Seriously. Created using cutlery-grade steel with 58 Rockwell hardness used in the production of the sturdiest of blades, this knife set cannot rust, corrode, nor discolor.

Scientists in CERN may have discovered that if the Forged Stainless Steel Knife Set and a Nokia 3310 were to collide, The Big Bang would be re-created!

SPECIFICATIONS:

Material: STAINLESS STEEL
Packaging: Six-piece Set
Certification: CE / EU, CIQ, EEC, FDA, LFGB, SGS
Type: Knife Sets
Feature: Eco-Friendly
High Carbon Stainless Steel: 58 Rockwell hardness and UltraSharp Edge
Solid Ergonomic Handle: Minimize wrist tension and even after prolonged use
Gift Box: An ideal gift for a friend or loved one
We've JUST put it on sale today for all you kitchen ninjas out there!
Act fast and get your very own Forged Stainless Steel Kitchen Knife Set today to up your cooking game to the next level!
Shipping: 
Your order will be shipped within 2-3 business days.

We offer FREE WORLDWIDE SHIPPING!