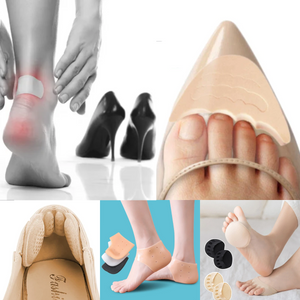 Unlock the secret to all-day comfort in heels
Introducing our comprehensive Feet Protection Bundle, specially curated to solve all your high heel woes and make your every step a pain-free delight. Say goodbye to foot pain and discomfort with our carefully crafted collection of foot protection essentials.

Are you tired of enduring excruciating foot pain while wearing your favorite heels? We have the perfect solution for you. That's why we've created our innovative feet protection guard to provide you a blissful walk


Front foot pad: Designed to provide comfort and support for the front half of the feet when wearing heels, preventing foot pain.

High toe plug: A soft cushion inserted inside heels or sandals to protect the toes from hitting or getting squeezed against the front wall of the footwear.


Heel guard: Worn on the backside of the heel to prevent calluses and cracks, offering additional protection and comfort.

Achilles tendon guard: Designed to prevent cuts or discomfort in the Achilles tendon region while wearing high heels, enhancing overall comfort.



This takes care of your of all problems, shielding it from cuts and irritation caused by high heels. With our bundle, weight distribution is optimized, providing a harmonious balance that helps prevent pain and unwanted foot conditions.
Package contains:
 1 pair of each items

Don't let foot pain hinder your style and confidence any longer. Embrace the joy of walking pain-free in your heels with our Feet Protection Bundle. Whether you choose the complete package or individual items, invest in your foot comfort and make a lasting impression with every step. Order now and experience the difference for yourself!

Shipping: 
We Ship Worldwide
Your order will be shipped within 1-2 business days.